Pre-validated platform
With BizzMine, your quality processes fully comply with ISO 9001, ISO 13485, ISO 17025, ISO 15189, ISO/TS 16949, ISO 22000, 21CFR Part 11, GxP, and GAMP.
All users have easy access to the software, no matter where they work and you have full control and overview over your entire Quality Management.
It has been proved that BizzMine is able to be qualified for use in a pharmaceutical environment.
- Carbogen AMCIS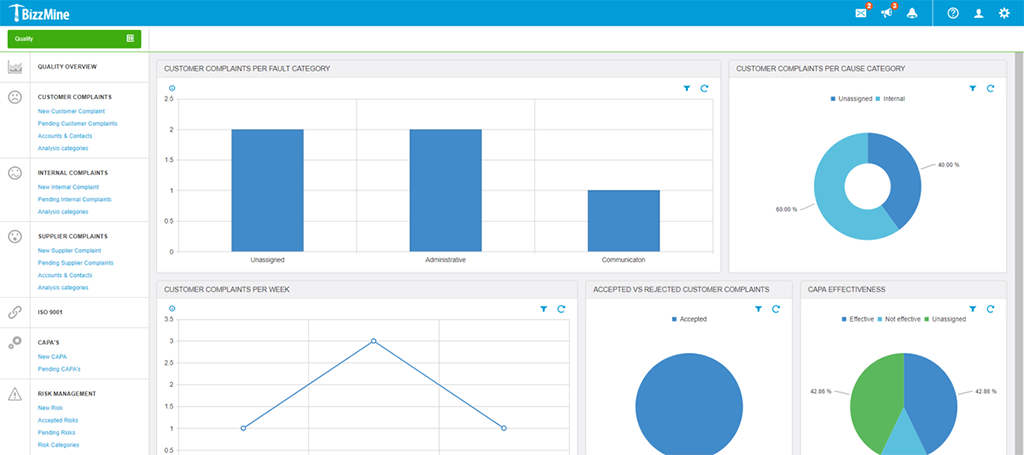 Get started fast
With the prebuilt processes you can implement your quality management in a couple of days.
Configure existing or new processes, without any need for coding.
Make changes yourself or count on our business consultants for help.
Go for the cloud or On-Premises. Choose for maximum comfort and security.
Scalable and flexible
Scale from a small business to a large one, spread over multiple sites. BizzMine grows easily with your business.
Expand your digital workflow approach to other departments of your organisation.
Use BizzMine in English, French, Dutch, German, Swedish, Portuguese, Lithuanian, or Italian. More languages can be offered upon request.
Trust our support around the globe, since we have offices on all continents.
15 requirements you need to find in a solid digital QMS
Choose your industry to learn more