Digitize documents to keep track of written procedures.
Review and approve instruction documents easier and faster than before. Stay up to date on the latest document versions you can use.

Choose the layout of your digital forms at each step of the workflow process.
The exchange of general instructions and changes now happens automatically and hence very fast. BizzMine is of great importance to us, especially because we work on different sites.
- H.Essers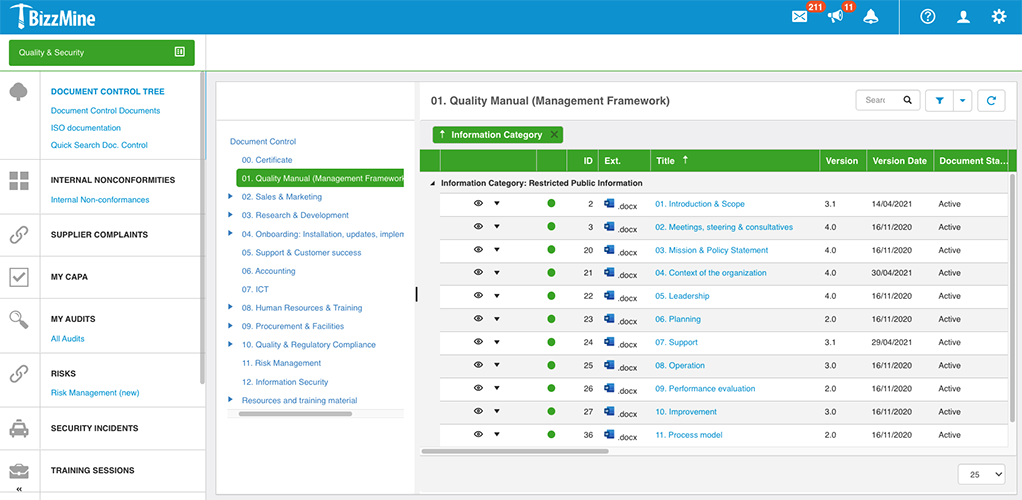 Be prepared for your next internal or external audit.
With BizzMine, you can easily view the required work instructions.
Identify, analyze and track all possible deviations that occurred during the audit.
We find the software particularly user-friendly and very useful during audits.
- H.Essers
Launch and link CAPAs from any other process.
Initiate CAPAs to correct and prevent deviations in accordance with quality risk management principles.

Customizable dashboards make it easy to present the most valuable and useful data.
It is not enough to do your best; you must know WHAT to do and THEN do your best.
- W. Edwards Deming
Automate your risk management process.
Mitigating risk is more critical to a GDP-compliant quality system than ever before.
Identify potential high-risk areas allowing the management to take
appropriate preventive action and reduce wasting resources on low-risk
areas.
The future of risk management is automated.
- Forbes
Monitor complaints and help reduce them in the future.
With BizzMine you can better track, investigate, and correct your
customer complaints, supplier complaints, and internal deviations.

Our Complaints Management leads you to compliance with ISO standards
and FDA requirements.
We deployed BizzMine to replace our existing complaints database with a more flexible and easier to maintain complaints follow-up system.
- Sylphar
Organize calibration processes in one place.
Capture all relevant data in the customizable calibration form and attach scans or images to document the results.

Schedule your calibration work and rely on the intuitive workflow process for deadlines.
Streamline quality processes to manage non-conformities.
Deviations from established procedures are documented and investigated.
You can easily set up a workflow to handle deviations and defects.
Manage all data on training, skills and exams.
Register all training data in a central database via customizable training session forms.

Get a color-coded overview of user and function skills in the skills matrix.

A major advantage of a digital quality system is the ability to link training, skills, and exams to documents.