Be prepared for your next audit
By having all documents in 1 central platform, you can be sure of full traceability and ready for successful internal and external audits.
Register all relevant data in the customizable audit form and attach (scanned) reports or pictures to document the findings.
For our audit, we had our documents in good order and we could rely on the traceability of the approvals for the documentation.
- Tiki Safety
Correct deviations for continuous improvement
Identify, analyze, and track any potential non-conformances that occurred during an internal or external audit.
Initiate corrective actions (CAPA) to correct and prevent possible future deviations to achieve continuous improvement.
Workflow assures that assigned users automatically receive reminder notifications of tasks that can be sent via e-mail.
BizzMine has proven to be the ideal application to automate CAPA and audit processes and to streamline information between departments.
- Christeyns France
Easy access and enhanced communication
All users can follow up on audits from their laptop, tablet, or mobile phone and have easy access to the audit process.
Digital audit management enables seamless collaboration between auditors and auditees, who can easily share findings and track progress.
BizzMine is available in the cloud or on your own server.
Using BizzMine we have found that it is also the perfect tool for our internal audits. For example, we have created solutions for our incoming supplier inspections.
- Laurastar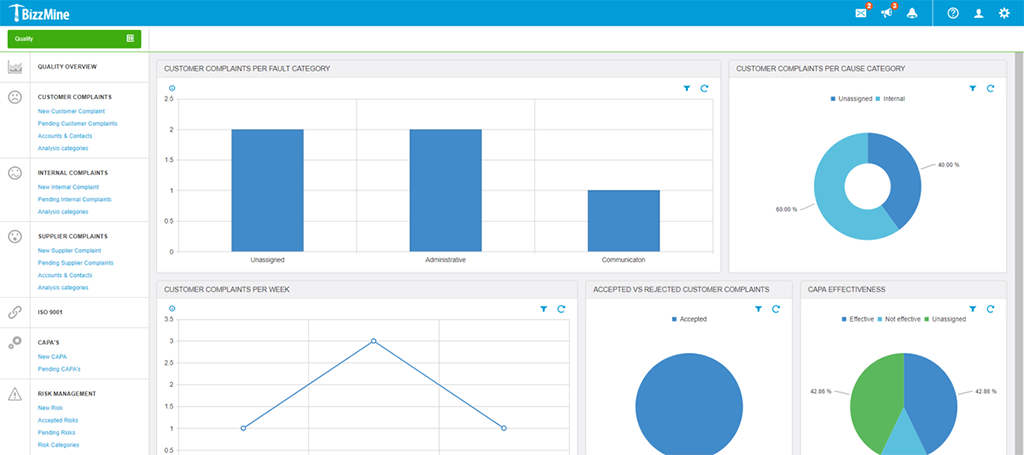 15 requirements you need to find in a solid digital QMS
Choose your industry to learn more