Automate and control your change management process.
Take quality decisions regarding changes in a proactive way. Make adjustments with the least amount of risk and impact possible. Determine, monitor, and document all change risks and their impact on your organisation.

Control the change process effectively regardless of where the issue causing the change arises or how many departments the proposed change affects.

Reduce redundancy and manual labour. Change approvals and notifications regarding any event linked to a change can be automated and managed. Task notifications are automatically issued to the stakeholders who oversee each task. Using industry best practises, tracked and approved modifications may be released and implemented quickly.
With a good preparation on the design of the forms and workflows, BizzMine was able to implement both CAPA and MoC application within two days.
- Carbogen AMCIS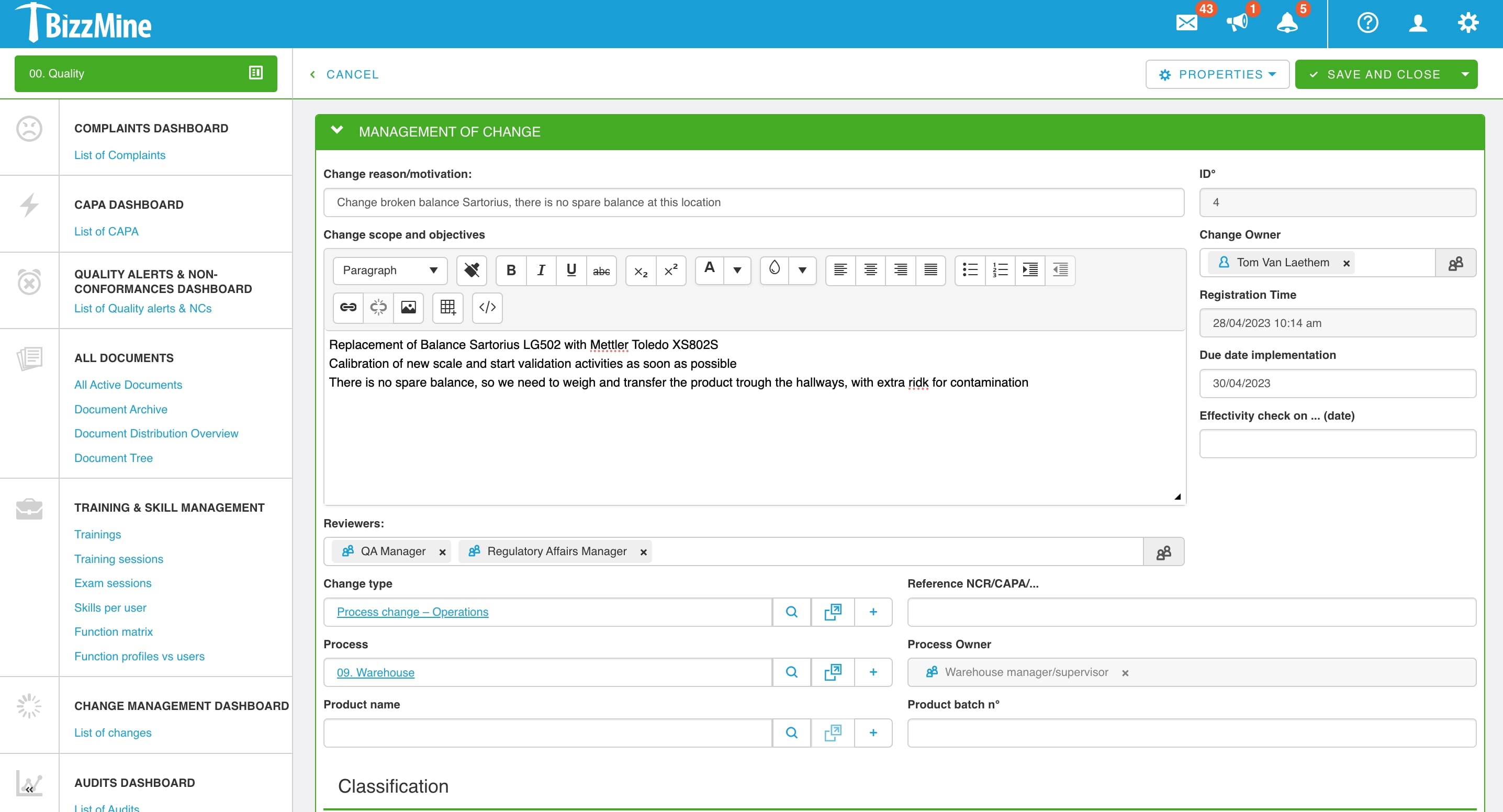 Connect your change control for continuous improvement.
Any quality item, such as change records, documents, hazards, CAPAs, customer or supplier complaints, audits, and non-conformances, can be linked.

Integrate your training management. Any modification to a document or process that requires new training will instantly trigger training, skills, and exams. You can train colleagues on changes as they occur in real time by connecting your complete quality system.

The interaction with the document control module simplifies the integration of required documents and provides full traceability throughout both modules.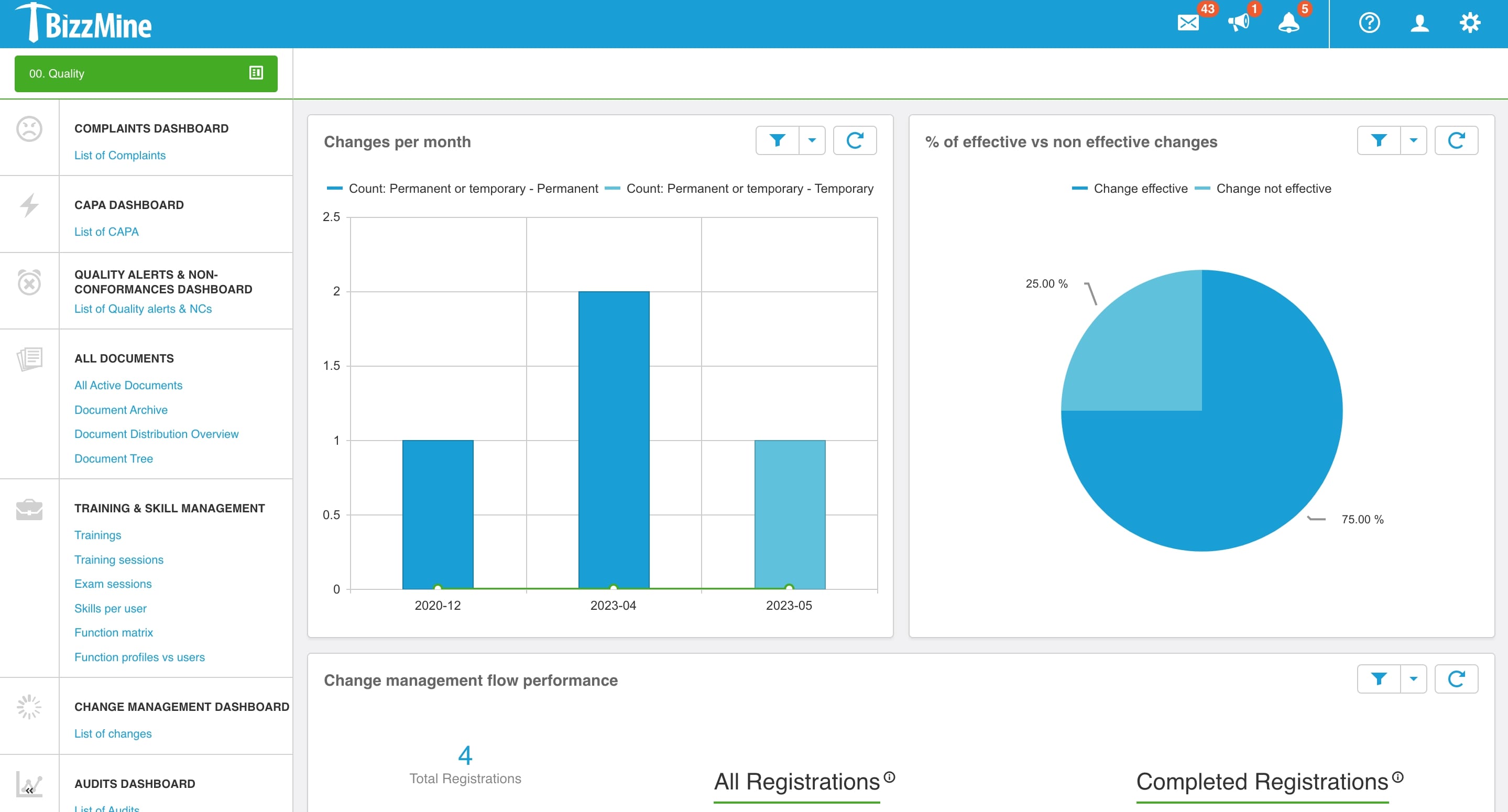 In BizzMine, we keep all our Quality, Environment, Safety and Sustainability (QHSE) documents. Our processes for managing external and internal audits, Management of Change (MoC), internal non-conformances, customer and supplier complaints, risks and opportunities, meetings, actions, and a number of product developments have been automated with the software.
- Beaulieu International Group
Be compliant and audit ready.
Because you can see what was changed, why and when it was changed, and what was impacted by a change, the Change Control process offers complete traceability.

Your quality system is constantly available for inspections and audits, allowing your company to easily meet auditing and compliance needs.

With time-stamped audit trails and electronic signatures, you can stay in compliance with regulatory requirements and standards like ISO and GxP while also meeting FDA's 21 CFR Part 11 and Annex 11 requirements.
Continuously monitor the effectiveness of the change.
Customisable dashboards provide total change visibility for compliance and reporting. Monitor the changes after they are implemented and make notes to analyse the change rollout process and effect to constantly improve your quality approach.
Set up automated procedures and notifications to let IT and business stakeholders understand and communicate more clearly. Handle changes independently with unique and customisable workflows, allowing you to operate the way you want. With automatic notifications, you can improve communication.
It's very easy to monitor all CAPA and change control processes with the BizzMine software.
- DeLaval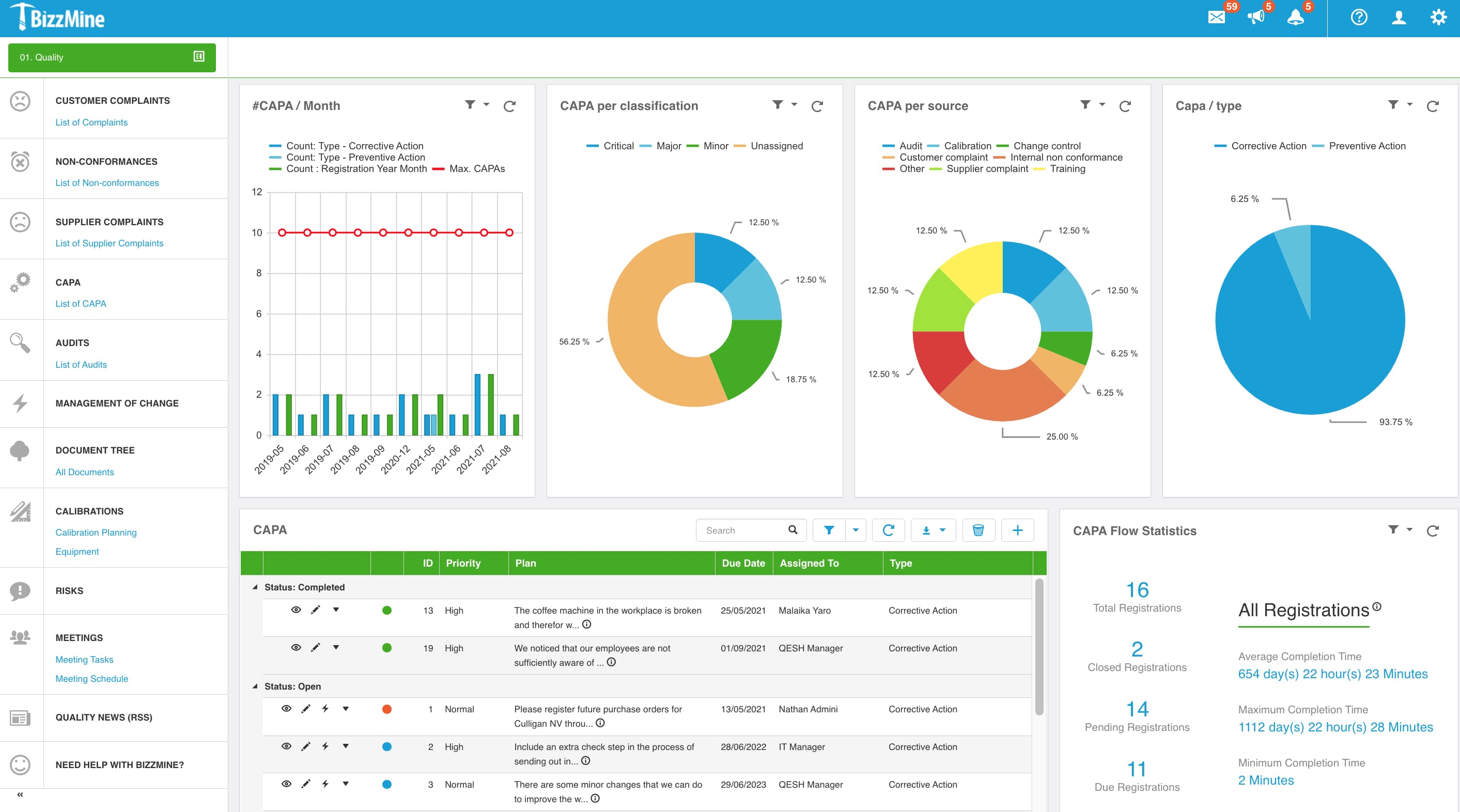 15 requirements you need to find in a solid digital QMS
Choose your industry and discover more